Popular Searches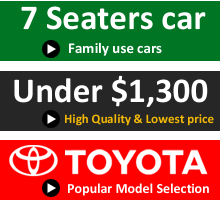 Choose by Make
Why JapanCarsDirect is So popular in Tanzania ?

Buying a used vehicle from Japan is most popular way to own a vehicle in Tanzania. There are thousand of vehicles being exporting to Dar-es saalam and many exporting companies do exist selling to Tanzania. Among those exporters, We believe we are the best ! We offer Top Quality vehicles at the lowest price which you will see by comparison with other exporters. Not only prices of vehicle, we ensure our vehicle be in very good condition for your full satisfaction. We do inspect 120 points and do physical maintenance at our Garage prior to delivery out from Japan.

JAAI Inspection is mandatory for vehicles from Japan.
Vehicles being imported to Tanzania from Japan are required to have passed the JAAI inspection. We ensure your vehicle taken the JAAI inspection prior to delivery from Japan. The Certificate of JAAI will be sent with shipping documents.

Import Regulation of used vehicle importation.

Tanzania unlike many other countries has no age limit on used vehicles. However the taxation of the car may change depending on the age of the vehicle. In general, if a vehicle is older than 10 years, higher taxes are applicable.


Hi, For item description.I cant comment on this because i havent seen the car yet. Then on the DHL you forgot to indicate my number so it took time for me to correct it.
Popular Japanese used vehicles in Tanzania

Import Taxation in Tanzania

For all vehicles with the engine capacity up to: 2000cc:

Import duty 25%
VAT 20%
Cumulatively this is 50% of dutiable value.

For all vehicles with the engine capacity above 2000 cc:

Import duty 25%
Excise duty 10%
VAT 20%
Cumulatively this is 65% of dutiable value.

Common Questions from Tanzania

How can I know if JapancarsDirect.com. is a trustworthy company?

JapanCarsDirect.com own by Meteor is a trustworthy Company because we are being registered as dealer of Used vehicles and have a large experience of exporting vehicles to oversea customers. We sell over two hundreds of vehicles to our customers in oversea every month. Kindly see our company profile

How Can l I know when my payment has been deposited into your account?

It is important that you provide us proof of payment to secure your order. Once the payment has been made?at your side, please send us a confirmation of payment together with the proforma invoice number or Vehicle REF no by Email or Fax. Once your payment is confirmed at our account, our sales staff will notify you immediately.

How much time will it take to reach Japan's bank account?

After you have made the payment it usually takes between 2 to 7 days for the funds to reflect in our account. We continuously check our account and we will notify you a confirmation email as soon as the funds are confirmed here. Please always have your invoice number when you complete a payment, to avoid problems in identifying it when it reaches us.

What dose JAAI inspection mean?

The JAAI inspection is a paid certification of the quality of the vehicle approved by the JAAI. (Japan Auto Appraisal Institute). In some Countries the Government requires JAAI inspections for imported used vehicles. Without JAAI inspection, you will be required to pay a penalty.

How do I know that the mileage indicated is true?

We do not tamper with the mileage in the vehicle for any case and for any reason. The mileage of some vehicles are sometimes extremely low, but this is possible in Japanese Cities where people rely mainly of means of public transportation. The Mileage records are available on every vehicle we have. They are being mentioned on the export certificate which we provide with shipping document

See other FAQ

How to import to Zambia

1.Select and order a car
Choose your vehicle on our website and proceed to order. Select your country and port of delivery to place an order.
2.Get a proforma invoice
You'll receive a proforma invoice for your vehicle by email once you place an order.
3.Make payment
Once youIve made Payment, Kindly send us payment copy to secure the car. We'll reserve the car for 3days.
4.JAAI inspection
After payment, JAAI inspection is carried out and ensure your vehicle is very good condition.
5.Shipment
Your vehicle is shipped out upto Dar es Salaam, Tanzania. It normally takes approximately 4 weeks from Japan.
6.Sending documents
Once the vessel is shipped out, our logistics team send you all necessary document including bill of landing and other documents.
7.Arrival and Pick up
Once the vehicle is arrived, you can pick the vehicle by yourself or clearing agents will arrange it.
8.Clear from customs
Register your vehicle and Enjoy driving!!